I had such kind feedback when I shared our
bedroom redo
. With that came some requests to see other spots in our house and for thoughts on decorating. Disclaimer: I am by no means a trained expert on this subject. I just find putting a room together like therapy. I swear that beautifying a personal space must somehow releases endorphins.
So, let's start with wall collages. I am in love with these from the simple collection to a floor to ceiling display. They are so personal and beautiful. I'm inspired by wall art like this:
And this:
And even the simplicity of this:
So I've done this in our home in a couple different ways.
In our entry you will see an old frame I found at a thrift store. In the back the frame I strung colored baker's string back and forth using nails to keep it in place. Then I simply used miniature clothes pins to clip up some of our favorite family snapshots. I love that the photos can be easily swapped out at any point: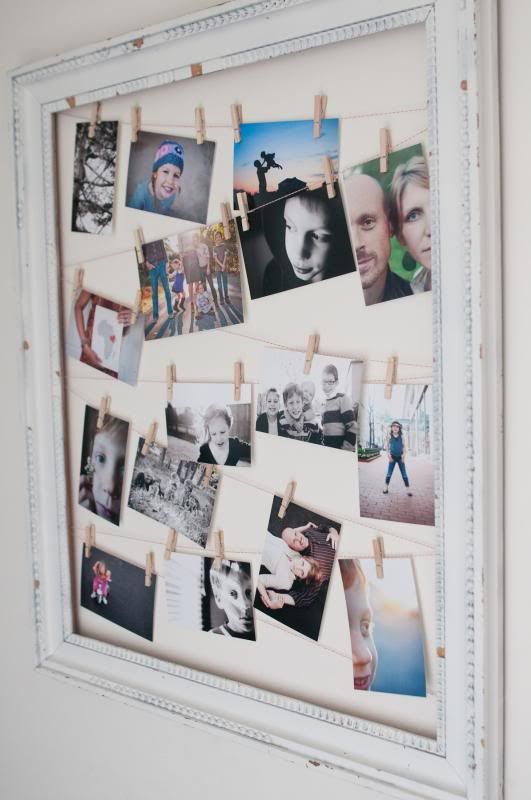 In our upstairs hall you can find a small hanging collage that was made out of one sheet of bead board that we had left over from a project. I attached old drawer pulls and some hanging hardware to the back. Then I had some styrene-mounted photos printed and hot glued ribbons to the back of the pictures.
But I really wanted is to take the collage idea one step further with a true, full collage. To do this, I knew that there were a couple of things I needed to figure out first.
1. What was important to me?
I really, really wanted the collage to represent us as a family. I wanted it to be a reminder of where we came from and where we are going, items that were important to us. So I started pulling together pieces that represented that idea. I started with pictures that held meaning- photos of our moms as babies, favorite photos of our ancestors, photos of my kids, our wedding photo. I tried to mix serious pictures with goofy ones, posed with candid.
Then, since I wanted a true mixture of elements and not just photos, I moved on to other artwork- my Great Grandfather's etching, a floral drawing we bought as newlyweds, and artwork representing where my next daughter will come from.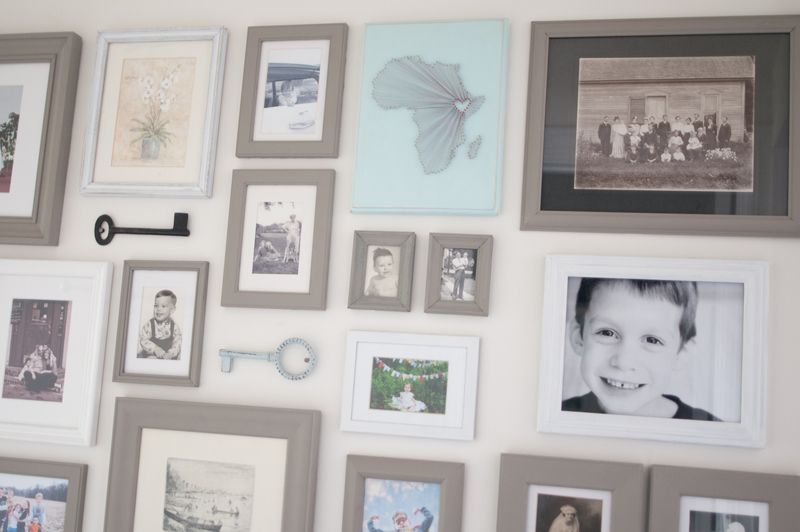 2. What artistic touches did I want?
I wanted to create unity in the collage through colors. This was achieved by painting all the frames two different colors and then adding touches of blue. I also love when collages have a couple unexpected additions. For my collage this came in the form of keys. I bought these keys and repainted some of them to keep with the color scheme.
3. What shape did I want the whole collage to be?
While I'm drawn to floor to ceiling collages, I knew that in a hallway of a house with four kids, this would be crazy-talk. I chose instead to make this collection a giant rectangle at an adult's eye level with the base of it just out of reach of my then 2 year old.
4. How do I create this big of a piece of art without making a bunch of mistakes?
This could have been a straight-up disaster that my over-eager self would have walked right into. Instead, I grabbed some giant wrapping paper, and used this method:
I laid it out on the floor and cut it to the size I wanted the collage to be.
Then I laid the frames and pieces of the collage out on the paper until I knew I had everything just as I wanted it, correctly aligned.
I traced the outline of each of the pieces in their perfect spot.
I removed the artwork and hung the paper in the hallway with painter's tape.
Then I began nailing and hanging the pieces where the paper dictated.
At the end I carefully tore the paper out from underneath the artwork, and voila, the anticipated collage was complete.
I hope that helps get your creative juices flowing. Have a fabulous weekend!