It's been a long while since I've done a
"Peek Into Our Home"
post, but I'll be trying to get a couple up in the next few weeks along one or two simple tutorials.
So today let's peek into our guest bedroom that happens to also be the room of a long-standing "guest". My sweet sister, Hannah has lived with us for a couple years now. She will most likely be moving out at the end of the summer which will be tearful for all of us. Knowing this and also upon her request, I took over the decorating of this room.
My policy when redo-ing a bedroom is to keep the bedspread/comforter I've chosen in mind but NOT to decorate around it. The problem in getting so caught up "matching" the room to one piece is that when you've grown out that bed covering, you are forced to redo a whole room. Trust me, I've done hideous things like an time-intensive, striped lilac painted room designed around one silly comforter. When I changed my mind, I was stuck with those purple stripes until I convinced my husband to give up a weekend to help me paint the whole thing over. INSTEAD I've started designing a room I love with neutral pieces. You'll see that in this room where I chose grey and cream as the base color- a hundred different bed coverings would look gorgeous with this design.
This dresser was a $5 steal at a yard sale. I'm terrible about remembering to take "before" photos, but picture a dumpy old wooden dresser. I painted the main part of the dresser with Annie Sloan Chalk Paint in the Old White. Then the drawers were done in the French Linen color. The contrasting colors make this more of stand-out piece. I simply painted the original wooden drawer pulls in the French Linen, but decided on chrome pulls for the top drawer for some extra interest.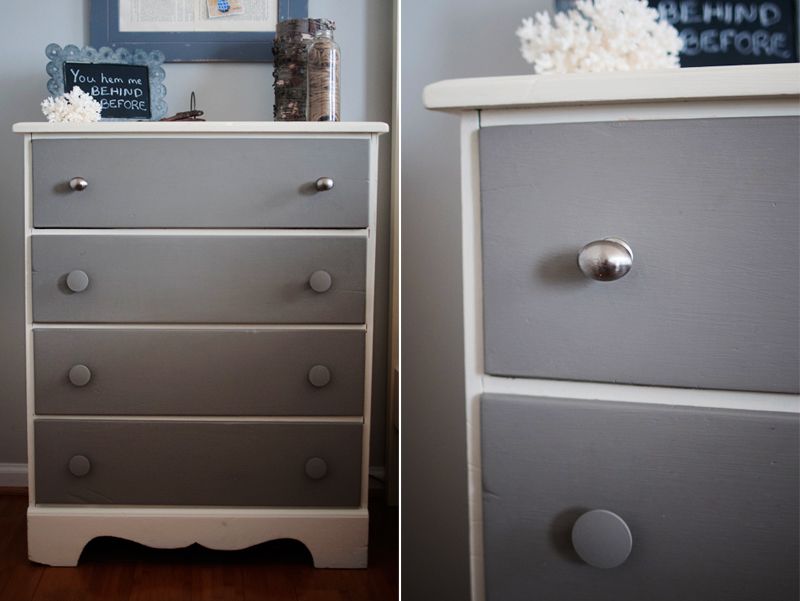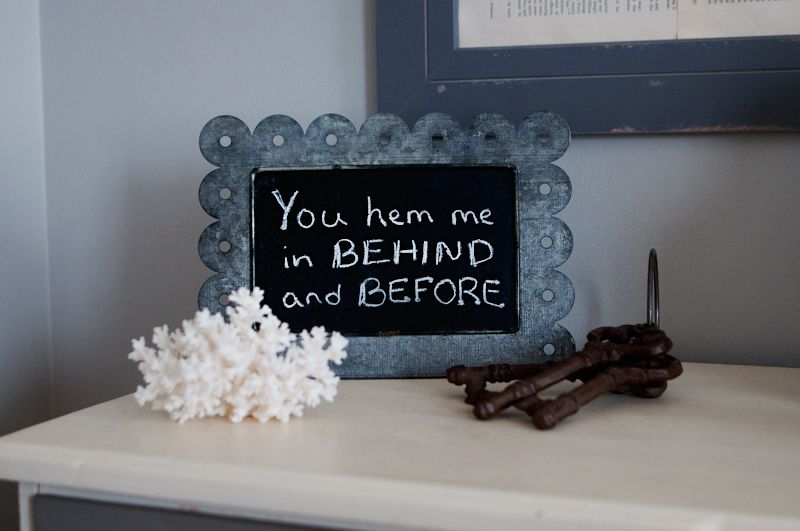 Psssst...secret. This glass bottle was an iced tea bottle that I rescued from the recycling bin and filled with some fat twine I had on hand. The bark vase and the above chalk board both come from an addicting little website full of inexpensive items called
Save On Crafts
.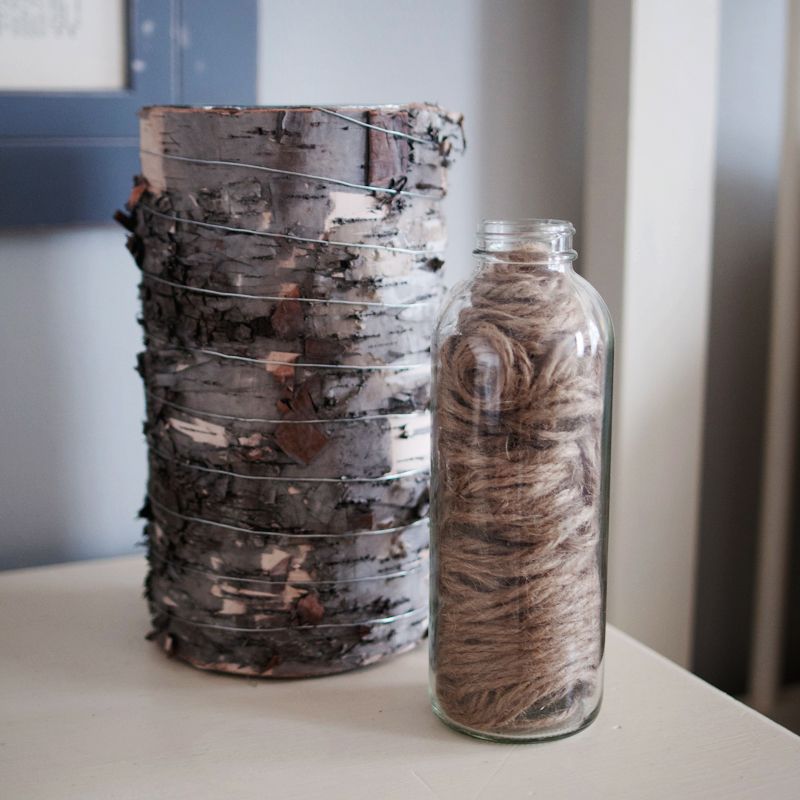 The push-pin board was a score from
Home Goods
. It was just plain cork inside; but when I'm not
hanging books on the wall
, I'm pulling them apart. I took pages torn out of a book from a garage sale and used some adhesive to cover the board.
My sister helped me by painting the wooden bed frame we've owned forever in the Old White I mentioned before (with Annie Sloan wax to protect it). It made the piece so dreamy and beauty, but she probably wanted to shoot me after having to do each of those rails.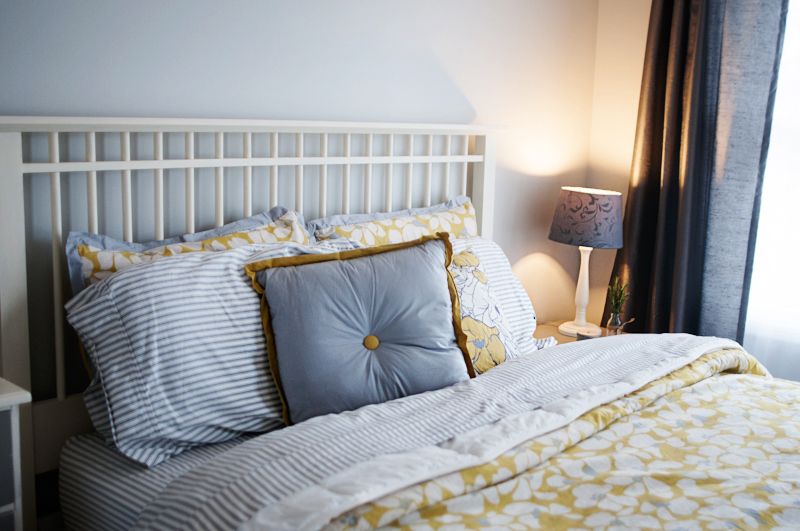 This little nightstand was actually once a side piece of an antique vanity. I'm smitten with it.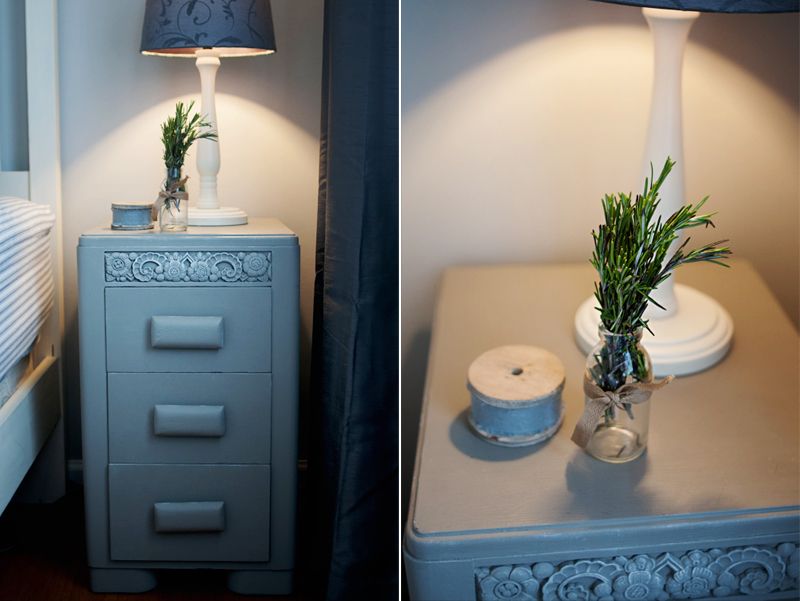 After painting it in the French Linen, I used a dry brush with the tiniest bit of Old White on it to brush over the wood design so that it would stand out more. Aren't the details devine!?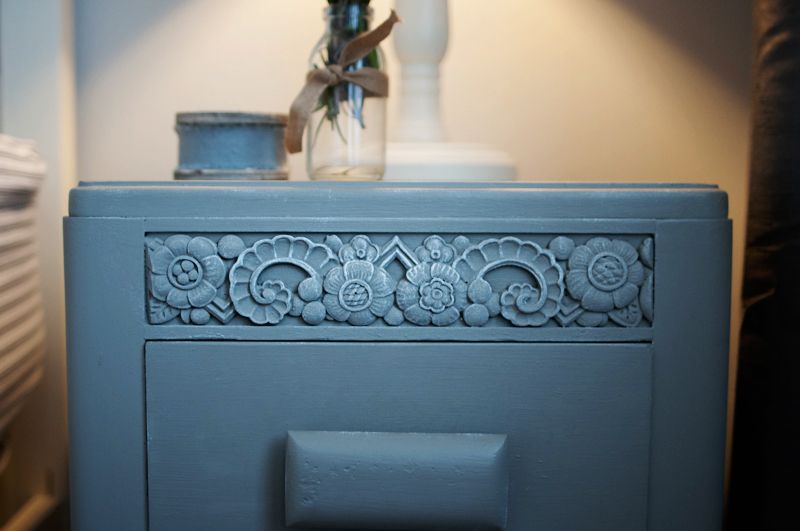 I already blogged about how to make this little
DIY pallet art
. You can find that
HERE
.
A little space turned little haven. As always, feel free to post your room redo's in the comments since who doesn't love to peek into someone's space!
Happy Friday, friends!