Quinoa isn't exactly a "new" food around my house, but we eat it like it's going out of style. Quinoa is considered a superfood because it's not only high in fiber; but it is also a complete protein and contains more protein than any other grain. And for those of us over here with some dietary restrictions, the even better news is that it's naturally gluten-free.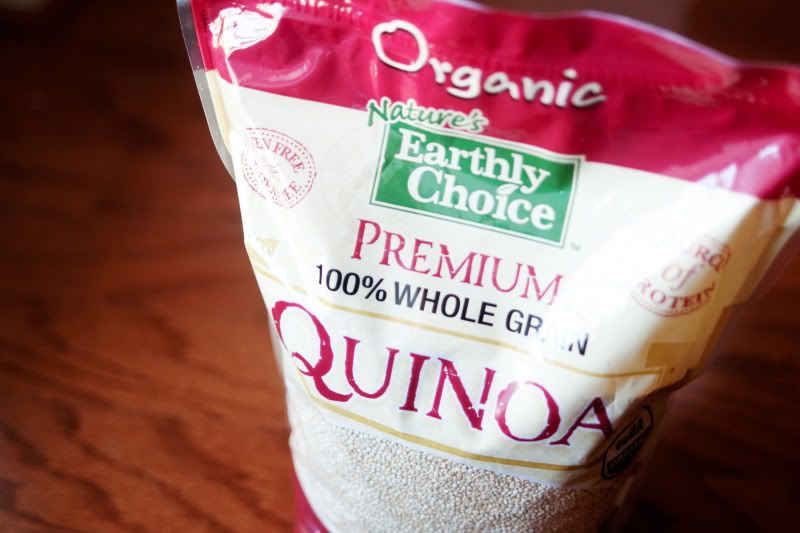 I cook it up with half water, half chicken broth to give it a fuller flavor. Then I may:
mix it with asparagus, goat cheese, and ham
mix it with black beans, avacado, tomatoes, cilantro and top with salsa and plain yogurt
make coconut curry Thai with the quinoa as the base
put spaghetti sauce on it
make it a substitute for rice
...just to name a few. I told you we eat it like no tomorrow, and it doesn't hurt that every single person in the house likes it.
But my latest favorite way to make it is this:
Mediterranean Pepper Quinoa Salad
This recipe was from
Smitten Kitchen
. I simply added the quinoa and a couple of notes.
1/4 cup red wine vinegar
1/4 cup cold water
1 tablespoon kosher salt
2 teaspoons sugar (I use 1/8 tsp. Stevia)
1/2 a red onion, cut into a 1/2-inch dice (use less if your onion is huge)
3 bell peppers, your choice of colors (I used one red, orange and yellow)
1 kirby cucumber,
1/4-pound firm feta cheese
1/4 to 1/2 cup pitted kalmata olives
1/2 cup halved cherry tomatoes
4 cups cooked quinoa
1/4 cup olive oil
Salt and

pepper

to taste
Swish together the red wine vinegar, water, kosher salt and sugar in a small bowl until the salt and sugar are dissolved. Add the red onion and set it aside.
Meanwhile, time to practice your knife skills. Core and seed your bell peppers and chop them into 1/2-inch pieces. Chop the cucumber and feta into similarly-sized chunks. Put your peppers, cucumber, feta and olives in a large bowl.
By now, your onions will have lightly pickled, both sweetening and softening their blow. Drain them and add them to the other vegetables in the large bowl, but reserve the vinegar mixture. Add cooked quinoa. Pour a quarter cup of the vinegar mixture over the

salad,

then drizzle with olive oil. Season with salt and freshly ground black

pepper

. Toss evenly and serve at once, or let the flavors muddle together in the fridge for a few hours.
The freshness of this salad makes it a perfect summer meal.
And Costco comes through again as the cheapest place to buy this.