As you know from my
last blog post
, half of our household has a gluten allergy; plus my littlest is dairy-free as well. When it came to changing what I prepared for meals, I've found that dinner time to be my easiest to adjust to because of one simple trick...I cook almost exclusively ethnic. If you think about it, a majority of typical American food is riddled with gluten. Chicken nuggets:
check
. Mac & cheese:
check
. Pasta:
check
. Ceasar salad:
check
. PB&J:
check
. Meatloaf:
check
. Cheeseburger:
check
. Apple Pie:
check
. Pizza:
check, check
.
Now I have to admit that giving up the above list wasn't a serious sacrifice since those weren't my favorite foods. Well, minus pizza. *sob* (And don't leave me comments about how delicious gluten-free pizza can be. Nothing will ever fill the hole in my heart that is Pizza Hut's Stuffed Crust Pizza. Nothing.) But I digress. I personally think that gluten-free replacements for American foods aren't the greatest. However, ethnic food is almost entirely naturally gluten-free (and usually dairy-free as well).
Now my kitchen prep is like a little world travel: Korea, India, Vietnam, Bolivia, Ethiopia, Mexico, Greece, Thailand. And allow me to demystify it for you with a little secret: it's actually not difficult to prepare.
I'll pass along to you, a current favorite in our house which can actually be made in the slow cooker (bonus!). It's Chicken Tikka Masala. A girlfriend of mine brought it to us when we moved, and one bite let me know I had to have the recipe. I've tweaked it a little bit, and have some notes for how to make it without any cow products since many people with dairy allergies, like my daughter, can handle goat and sheep's milk. The recipe allows for a full pot so that you can pull at least two meals out of it. Bon Appetit!
Chicken Tikka Masala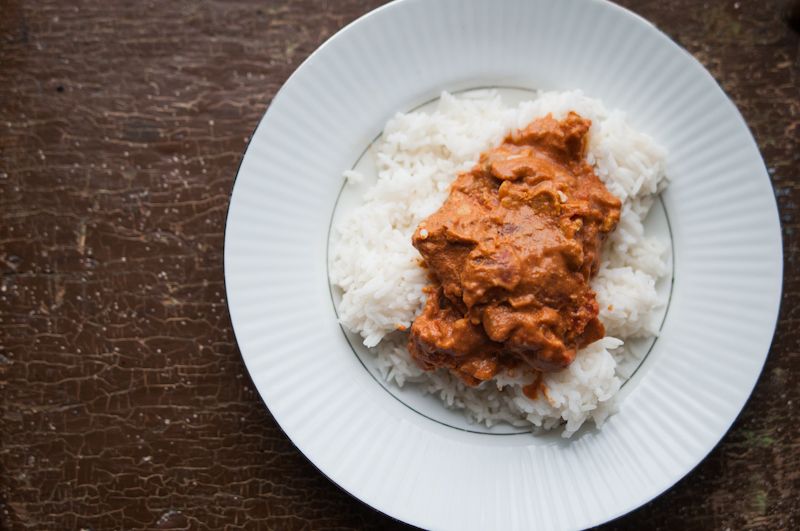 Chicken Tikka:
1
1/2
cup plain yogurt
(Get goat's milk yogurt if you can't have cow's milk. Trader Joe's has the best price for this.)
1
1/2
tbsp lemon juice
3 tsp cumin
1/4-1 tsp cayenne
(Depending on your personal spice tolerance)
1
1/2
tsp cinnamon
1
1/2
tsp pepper
1
1/2
tsp salt
8-10 chicken thighs
(Costco has some great boneless chicken thighs)
Put all ingredients except chicken into a gallon-size bag. Sealed the bag and "smoosh" the ingredients until they mix. Add the chicken and coat the chicken completely with the marinade, cover and place in the fridge for at least an hour or overnight.
Masala Sauce:
2 can 28 oz. diced tomatoes
12 oz tomato paste
4 inches fresh ginger, grated
4 garlic cloves, minced
2 onion, diced
2 tbsp garam masala
3 tbsp tikka paste
(Can be found at Wegmans. Mild curry paste can be used instead, if you add about a Tbsp of lemon juice.)
1 tsp cumin
1 tsp chili powder
2 tsp dried coriander
For the end:
1/2 tsp cumin
1/2 tsp chili powder
1 tsp garam masala
Salt to taste
2 cup cream
(omit if dairy-free)
4 tbsp fresh cilantro, chopped
(optional)
Turn your oven to broil. Cover a baking sheet with aluminum foil and place a rack over top. Take the chicken out of the marinade and place on the baking rack with the marinade on top. Place under the broiler about 6-10 inches from the heating element and broil on each side about 6 minutes. You don't have to worry about cooking the meat all the way through, you are just looking to lock in the flavor.
While the chicken is broiling, in a pan over medium high heat, add about a tsp or two of oil. Add the onion and saute for a few minutes to soften. Add the garlic and ginger and saute for a few more minutes until the mixture is nice and fragrant. Place the mixture into your crockpot. To that, add the diced tomatoes, tomato paste, garam masala, tikka paste, cumin, chili powder and coriander. Stir together. When the chicken is done broiling, add that with all the marinade/juices straight to the slow cooker and stir into the sauce.Slow cook on high for 4-6 hours or on low 6-8 hours.
Before serving stir in 1/2 tsp cumin, 1/2 tsp chili powder, 1/2 tsp garam masala and salt if it needs it. I find this just brightens up the spice flavors a bit. Then stir in the cream and fresh cilantro. Serve a chicken thigh and lots of sauce over basmati rice or any rice of your choice.
If you have a favorite gluten-free meal, I'd love for you to share the recipe link in the comments. I'm always up for trying something new!