Today will look somewhat normal and calm in the life of the Sieb fam. And yet on this day, something that's kind of a big deal is happening for our family. As the international adoption world would put it, it's our official DTE date. And de-acronymizing that for you, it's our Dossier To Ethiopia date. From here on, our referral clock starts ticking; we're on a waiting list for our baby girl.
In the corners of my brain, I find myself trying to compare this to a typical pregnancy. It took me awhile to think how to look upon this. Maybe you could say that all that paper chase madness (which felt more like a part-time job...except I had to pay someone else) was like some sort of crazy fertility treatment, and this is like a conception date. Somehow I feel like I'm officially pregnant...only triple the gestational time and then skip the face-in-the toilet dates, ballooning body, and aches. And, just as with the first four pregnancies, sometimes when I think about the little person whose face I have yet to see my heart is already bursting with love.
Now on to things that amuse me right now...
First, Adriana is supposed to write a short composition for school every day. Today's topic was to write about what you would do if you were going to the moon. Normally, I require a longer composition; and we fix her spelling. But this I simply couldn't touch.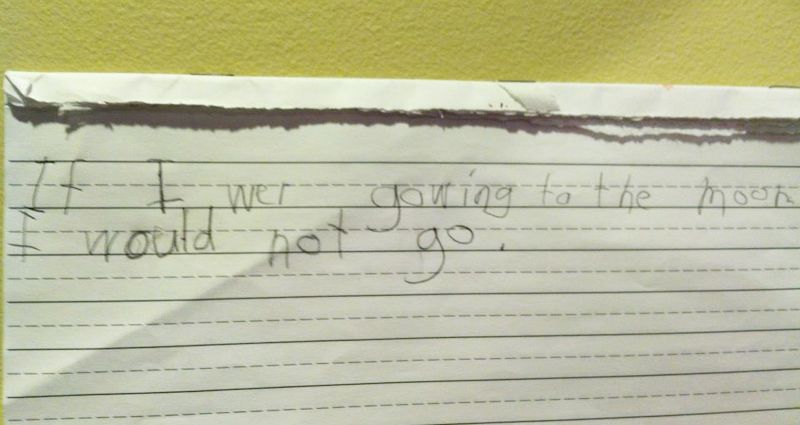 Apparently, the moon is scary and can blow you away. Plus on an even more convincing note, the astronauts have to wear diapers. Nuff said.
And for your further humor enjoyment, my sister secretly took some video of my four-year-old nephew strumming on his guitar and singing his own original composition that we could title "Baby Jesus & Ava". Oh, and just because I needed this clarified. I was informed he was singing "He was strong" not "He was drunk".
Carter has taught Ava the virtues of Tow Mater and Ava has tested his safety patience with her daring antics. Ah, cousins.