On Friday, Steven and I realized that something unusual was about to happen the next day. I had decided not to schedule any photo shoots on that Saturday and we had nothing planned. An open day. On the calendar. What!?!
We decide it was the perfect timing for one of our D.C. days with the kids. So the next morning we packed everyone into the van, managed to get lost twice downtown (even with an iPhone helping us), and finally made our way to Eastern Market.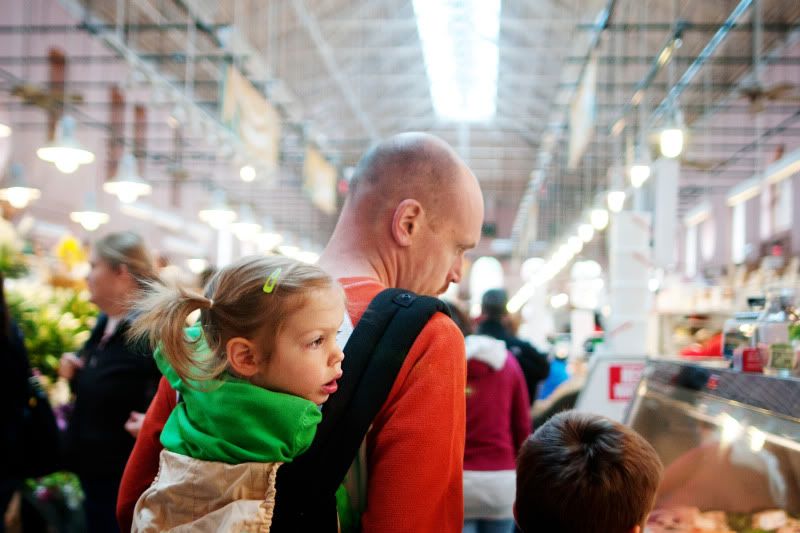 The kids had brought some of their spending money and wanted to spend it on...drum roll please.....Starbucks. I have no idea where they would get the taste for such a place. *cough*
Then we made our way to Lincoln Park to see the Emancipation Memorial. Isaiah asked me to get photo of him with the name of his hero.
My kid's favorite part of the day came when we headed over to the playground area of the park. In that fenced-in spot, there was a dog birthday party going on with about seven adorable little canines running around. Their kind, laid-back owners let my kids hold and play with the dogs as much as they wanted. Every last one of my offspring was in puppy heaven.
I had to frisk the kids as we left to make sure no one had stuffed a puppy in their pocket.
Even after all of this, my personal favorite moment of the day was a wonderful gift from God near the end of our visit. He allowed our family to have the opportunity to interact with a homeless man. And it was the most valuable thing my children (and their parents) took away during our D.C. day. We live in a relative affluent suburb of D.C., and my kids could not get their brains around the idea that the man we talked to really didn't have a home. They begged us to go back to our house and let them dig into their piggy banks for him. Adriana finally asked, "Well, can he come live with us?!" We ended up have a wonderful chance to teach our kids about what the real world is like, and our call to serve others and preach the gospel. It's gotten Steven and I both thinking about how we can foster this desire in their little hearts. And while, when we went back to look for this man a second time and couldn't find him, he's been in our kid's bedtime prayers.